Gazebos are an interesting thing. They're a great way to add some shade to your backyard while also making it feel more like you have a private oasis. But they don't come cheap! And if you're on a budget, it can be hard to justify spending so much money on one. 
That's why we put together this guide for you: so you can finally decide whether or not the price tag is worth it. 
Our guide breaks down everything from cost considerations to how much time and effort is required in order for us to help you make an informed decision about whether or not a gazebo is worth buying for yourself or as part of your wedding day planning process (which I'll get into later).
Takeaways
Gazebos provide a beautiful and functional addition to any backyard.
When choosing a gazebo, consider factors such as budget, size, and intended use.
Maintaining a gazebo requires regular cleaning and inspections, as well as protective finishes as needed.
Building a gazebo yourself can be a cost-effective option, but it's important to follow proper safety precautions and building codes.
To learn more about gazebos, check out our recommended resources for further reading.
Are Gazebos Worth It?
Gazebos are a great addition to any home, especially if you have a large yard. They can be used for many different things, including weddings, parties, and relaxing. 
If you're looking for an inexpensive way to add some shade and character to your back yard or patio area then this is the right project for you!
Greenhouses can be a great investment for gardeners and those interested in growing plants year-round. If you're wondering how much a backyard greenhouse will cost, check out our guide on backyard greenhouse prices to learn more about the factors that can affect the price and what you can expect to pay.
Are Gazebos Worth The Money?
If you are looking for a cheaper alternative to your typical tent, consider using a gazebo instead. A gazebo is typically cheaper than renting or purchasing an actual wedding tent. 
A gazebo might be more expensive than putting up some simple tarps and bunting, but it will definitely impress! There are lots of different styles of gazebos that can fit any type of wedding theme or color scheme.
While most people would rather save money by renting the cheapest thing they could find and call it good, there are many benefits to owning your own gazebos that make them worth every penny when compared with spending money on something temporary like an event rental company's rentals such as tents and tables (which may not even last long enough).
Are Gazebos Worth Your Time?
Gazebos are a great way to get shade and shelter in your yard. You can use them to relax, enjoy the outdoors, or even have a good time with family and friends. 
Gazebos are also an excellent choice for when you want to host an event that doesn't require large amounts of space. If you regularly entertain guests at home, consider building or buying a gazebo as part of your outdoor entertaining space so that they have somewhere comfortable to sit while they enjoy your hospitality!
If you're looking for ways to create more privacy in your backyard, there are several strategies you can try. From using plants and landscaping features to adding privacy screens and partitions, our guide on making a small backyard private has everything you need to know to create a more secluded outdoor space.
Are Gazebos Worth It If You Have Kids?
If you have kids, a gazebo can be an excellent space for them to play and run around in. This is especially true if your backyard is otherwise quite small or crowded with other structures like decking or a pool, as the structure of the gazebo can provide some open space for them to play. 
It's also worth noting that many manufacturers offer kits for attaching swings or hammocks to their designs, which can add even more play options for kids!
If your yard is large enough, consider using the gazebo as a place where your children can sleep during summer nights when they don't feel like sleeping inside. 
This way they won't have trouble falling asleep because it's too hot outside (or perhaps you're worried about bugs), but still get plenty of fresh air and sunshine during daytime hours when they're awake and ready to go outside again!
Are Gazebos Worth It For An Outdoor Wedding?
Yes! Gazebos are a great way to create a beautiful outdoor space for your wedding. They can be rented or purchased, and they're versatile enough to serve multiple purposes. When considering whether or not to purchase or rent a gazebo, here's what you should keep in mind:
Renting a gazebo can save you time and money when compared with purchasing one outright. However, if you plan on having many events in your backyard over the years (or if you're not 
sure how much use it'll get), then buying may be a better option than renting.
Anchoring your gazebo to concrete is an important step in ensuring that it stays in place during windy weather. Check out our guide on how to anchor a gazebo to concrete to learn about the tools and materials you'll need and the steps to follow to secure your gazebo properly.
Is A Gazebo Worth It For A Pool Deck?
Gazebos can be used in a variety of ways around the pool deck. If you want people to congregate in one spot, a gazebo can be a great place for that. 
For example, during your wedding reception you could have all of your friends and family gather under the gazebo for dinner or dancing. You can also use it as an intimate space for just two people or as a meeting place with friends and family.
Should I Buy A Gazebo Or Build One?
Gazebos can cost anywhere from a few hundred dollars to thousands of dollars, depending on the size and materials used. 
If you're looking for a quick solution that won't break the bank, consider buying a prefabricated gazebo rather than building one yourself. 
The cost of a factory-built gazebo is often less than the costs of hiring an architect or contractor to build one from scratch, but it's important to do your research before making a purchase.
Factory-built models are made with high quality materials that are easy to assemble, so they'll be strong enough to withstand the elements while providing years of enjoyment in your yard or garden space.
If you're in the market for a new gazebo, you may be wondering whether to choose a hardtop or soft-top model. Our guide on hardtop vs soft-top gazebos breaks down the pros and cons of each type and offers tips to help you make the right choice for your needs.
Is A Gazebo Worth It If You Live In A Condo Or Townhouse?
If you're living in an apartment, condo or townhouse setting and don't have a yard but would still love to have a place to sit outside and enjoy life, then yes! 
The gazebo is perfect for your situation. You can use it as a space to relax or entertain guests. What's more is that it provides privacy from neighbors who may not be looking for their own backyard retreats (or perhaps even live on the same floor level). 
This can help keep things quiet when you want peace and quiet but also provide some privacy from other residents if someone else wants some alone time too.
Is A Gazebo Worth It If You Don't Have A Yard?
Gazebos are a great way to add personality to your home. They can be placed in any part of your yard, even if you don't have a yard. 
A gazebo is also a good investment because it gives you an outdoor space where you can relax with friends and family members. If you're looking for an alternative to building an actual roof over your patio area or deck, consider getting a gazebo instead!
Adding a gazebo to your backyard can be a great way to create an outdoor living space and boost your home's curb appeal. But does it actually increase your property value? Find out in our guide on whether a gazebo adds value to your home, which includes insights from real estate experts and tips on choosing the right gazebo for your needs.
Should I Buy A Gazebo Or Rent One For My Wedding Day?
If you're planning a wedding or other large event, renting a gazebo might be the way to go. The cost of renting one is usually around $300 – $600 depending on how long you need it for and what type of setup you want. The benefits include:
You won't have to worry about building it yourself, which can be time-consuming and hard work if done by hand.
You can hire professionals who will ensure that everything goes smoothly from start to finish so that all guests are happy with their experience at your party/wedding. If there are any problems with the gazebo itself, then someone else will take care of resolving them quickly so that everyone can enjoy themselves as much as possible throughout the day (or night).
Is A Gazebo Worth The Cost Of Labor To Build One Yourself?
Building a gazebo yourself can save you some serious money. If you hire someone to build it for you, the cost could be as much as $2,000 depending on how large and elaborate your gazebo is.
However, if you plan on having a large group over often or hosting outdoor weddings in your backyard, then building one yourself might be the way to go.
Here are some advantages of building your own:
Conclusion
So, is a gazebo worth it? As with any purchase, there are pros and cons to consider. You need to ask yourself: 
What do you want out of your gazebo? Do you need something permanent or temporary? How much time can you invest in building one yourself versus hiring someone else to do it for you? If the answer is yes to all of those questions and if you have the space!—then go ahead and invest in the best one possible.
Further Reading
If you're interested in learning more about gazebos, pavilions, and pergolas, check out these additional resources:
Are You Considering Buying a Gazebo, Pavilion or Pergola?: This guide from Yardistry Structures provides an overview of the different types of outdoor structures available and the factors to consider when choosing the right one for your needs.
What to Know About Gazebos: This article from The Family Handyman offers tips on choosing and maintaining a gazebo, as well as creative ideas for using a gazebo in your backyard.
How Much Does it Cost to Build a Gazebo?: If you're thinking about building a gazebo yourself, this guide from HomeServe breaks down the costs involved and offers tips for planning and constructing your own backyard oasis.
FAQs
What is a gazebo?
A gazebo is a freestanding outdoor structure typically made of wood or metal that provides a shaded area for outdoor relaxation, dining, or entertaining.
How much does a gazebo cost?
The cost of a gazebo can vary widely depending on factors such as the size, material, and design. On average, a basic gazebo can cost anywhere from a few hundred to several thousand dollars.
How do I maintain a gazebo?
To keep your gazebo in good condition, it's important to clean it regularly, inspect it for any signs of damage, and apply a protective finish as needed. For more detailed maintenance tips, check out our guide on tips for maintaining and keeping your gazebo in good condition.
Can I build a gazebo myself?
Yes, it is possible to build a gazebo yourself if you have the right tools and skills. However, it's important to follow proper safety precautions and building codes, and to have a solid plan in place before you begin construction. For more tips on building a gazebo, check out our guide on how much does it cost to build a gazebo?.
How do I choose the right gazebo for my backyard?
When choosing a gazebo, it's important to consider factors such as your budget, the size and style of your backyard, and your intended use for the structure. For more guidance on choosing the right gazebo, check out our guide on are you considering buying a gazebo, pavilion, or pergola?.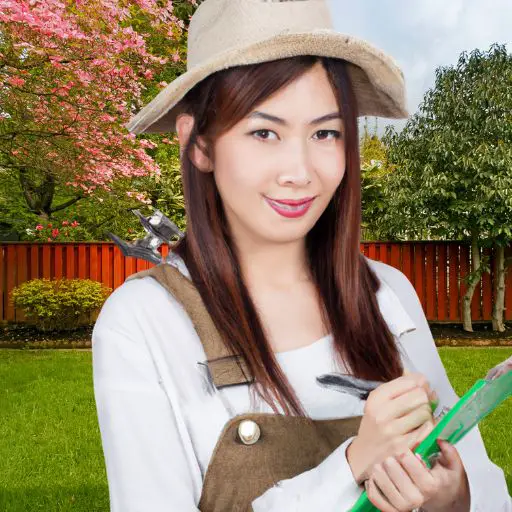 I am Hellen James, a landscape architect. For many years I have written about landscaping for various publications; however, recently decided to focus my writing on personal experience as a profession.