A gazebo is a great way to add personality and style to any outdoor space. This can be either a backyard or a garden, depending on how you want to use it. Gazebos are typically used as a sitting area but can also be used as dining areas, reading nooks, and so forth.
Key Takeaways from "31 Gazebo Design Ideas for Outdoor (Handpicked)"
Gazebos can serve a variety of functions, from outdoor dining spaces to cozy retreats.
There are many different gazebo designs to choose from, including traditional hexagonal or octagonal models and modern, minimalist structures.
Decorative elements like string lights, plants, and curtains can add a touch of personality and charm to your gazebo.
Consider the size of your outdoor space and the intended use of your gazebo when choosing a design.
With the right planning and attention to detail, you can create a stunning gazebo that enhances your outdoor living experience.
1. Elegant Gazebo
The Elegant Gazebo is an impressive, modern design that will be sure to impress all your guests. 
The white color of the frame and the glass roof gives this gazebo a very elegant look, which is accentuated by its cushioned seating and flooring. 
If you want to create a modern area for entertaining friends and family, this gazebo design is perfect for you!
If you're trying to decide between a gazebo and a pergola for your outdoor space, it's important to understand the key differences between the two. Check out our article on gazebos vs. pergolas to learn about the pros and cons of each and which might be the best fit for your needs.
2. Wooden Gazebo
The wooden gazebo is a classic design that can be built to match any style. The wooden gazebo is a popular design, and it's easy to see why. 
Whether you want an elegant or casual vibe, this type of gazebo will add charm to your yard or garden. You can also paint your wooden gazebo in different colors if you want to make it more modern-looking.
3. Traditional Gazebo
The traditional gazebo is the simplest and most common type. It's usually made of wood, but it can also be built in stone or brick. The roof is usually pitched, although some models have flat roofs instead.
Traditional gazebos are often associated with gardens because they look great in them and help create an outdoor space that's pleasant to enjoy during warm weather. 
Many people use these structures as a place for outdoor dining or reading books while enjoying the fresh air and sunshine without being exposed to insects flying around nearby trees or bushes outside their homes in suburbia areas where there isn't much green space left after everything was paved over with concrete pavement!
When it comes to gazebos, one important decision you'll need to make is whether to choose a hardtop or soft-top model. Our article on hardtop vs. soft-top gazebos breaks down the differences between the two and what to consider when making your choice.
4. Pergola Gazebo
Pergolas are a type of gazebo that you can make yourself. It is a freestanding structure that's usually made of wood or stone, and it can be used as an outdoor dining space or sitting area. 
It may also be used to provide shade for people who want to relax outdoors on hot days. Pergolas have arches that extend from one end to another, creating an open area with no walls in between them.
5. Modern Gazebo
A modern gazebo can be built using steel, wood and glass. Steel is an inexpensive material that's easy to work with and provides durability. 
Wood is a beautiful choice for the frame of your gazebo because it can be stained or painted to match any color scheme. 
Glass adds light and openness to any space, but it also lets in heat during the summer months so you may want to consider this when selecting your material choices if you live in warmer climates.
You might want to consider using your new gazebo as an outdoor dining area or sunroom where friends can gather together on warm days for lunch or dinner outside instead of sitting inside at home where there isn't much room for everyone around the table anymore now that everyone has moved out into apartments away from their parents' homes! 
Or maybe one option would be using this type of structure as a reading room where children could read books about all sorts of topics such as science fiction novels about aliens coming down from outer space and landing here on Earth; maybe even educational ones like Cat In Hat!
If you're considering adding a gazebo to your outdoor space, it's important to understand the potential cost. Our guide on how much a gazebo will cost breaks down the factors that can impact the price and provides an estimate of what you might expect to spend.
6. Simple Gazebo
A simple gazebo is one that does not have any frills and is simply built. This can be a great option if you want an outdoor structure that will serve its purpose without adding too much to the landscape. 
It's also a nice option if you are on a budget and do not want to spend too much money on your new outdoor space.
Simple gazebos can be made from a variety of materials, including wood or vinyl products such as plastic fencing panels or lattice fencing panels. 
If you would like to make your own simple gazebo, there are several ways in which you can go about doing so:
Buy pre-fabricated kits online and put them together yourself
Purchase individual components (elements) from your local hardware store, such as posts, beams, rafters, and roofing sheets
Hire someone with carpentry skills who can build one for you
7. Contemporary Gazebo
Contemporary gazebos are generally open-air structures that have a modern design. They are usually made of metal or wood and have a flat roof. The structure is usually rectangular or square in shape, but can also be round or octagonal.
The contemporary gazebo is often built with large windows to allow plenty of natural light to enter the space. It can also be covered by curtains if you want privacy at night time or during the day when there is too much sunlight coming in through your windows!
If you live in an area with high winds, it's important to choose a gazebo that can withstand the elements. Check out our list of the best outdoor gazebos for high winds for some options that are designed to stand up to strong gusts.
8. Indoor Outdoor Dining
If you live in a climate that has both warm and cold seasons, indoor-outdoor dining could be your best option. This allows you to enjoy the outdoors without having to be outside all year round. It also allows you to enjoy the indoors without having to be inside during those cold months.
Indoor-outdoor dining is becoming more popular in recent years because it gives people an opportunity to have fun outdoors while still staying inside their homes. 
There are many great options for indoor-outdoor dining as well as for creating an area on your patio or deck where it's easy for guests who may not want to sit on their feet during dinner parties (or any other gathering) to feel comfortable enough so they can relax comfortably at their table while still being able to watch what's going on outside through a large picture window nearby.
9. Rooftop Garden
Rooftop gardening is a great way to add greenery and color to an otherwise dull space. This type of garden can also be turned into a source of food and income, making it even more beneficial. You can grow vegetables, herbs, medicinal plants, or fruits in your rooftop garden.
There are many things you need to consider when planning for your rooftop garden such as what type of plants do you want. 
How much space do you have? How will you maintain the area? Will pests try their best to destroy everything? And what happens if there's no rain for several days in a row? These are just some of the questions that come into mind when thinking about creating this beautiful addition!
The good thing about having one on top is that because it's up high (typically) there isn't much pressure from neighbors or city planners who say what type of greening should go where – which means whatever grows well during specific seasons tends not only survive but thrive too since they don't compete with each other over resources like water intake structure size etcetera). 
This makes maintenance free except maybe trimming once every couple of months depending upon how fast-growing species are used (elderberry bushes grow quickly so trimming can happen every 2 weeks).
Even with a sturdy gazebo, it's important to take steps to secure it during windy weather. Our guide on how to secure a gazebo from wind offers tips on what you can do to keep your gazebo safe and secure during gusty conditions.
10. Poolside Gazebo
A Poolside Gazebo is a great way to create an outdoor space for entertaining and lounging, but it can be difficult to make sure that the design is both stylish and functional.
An elegant poolside house with a sitting area is made from fir wood and has a canopy roof so you can enjoy your favorite summer day in privacy. 
It's decorated with a hanging wooden swing chair and has three levels of seating options: one near the ground level, one on top of it, and one up top. This makes it easy to customize the height of each section without having to move around too much furniture yourself!
Materials for Gazebo Construction
Materials for Gazebo Construction
Wood
Vinyl
Metal
Composite materials
Bamboo
11.Round Shaped Gazebo
Round-shaped gazebos are perfect for creating a private space in your yard. Not only that, they also lend themselves well to having a circular table where you can sit and enjoy the company of others. 
This gazebo design is ideal for children's play areas as well because it allows them to run around freely without bumping into anything. 
The round shape offers more natural light than other shapes, making it perfect for any area of your home that needs some extra illumination during the day or evening hours!
Types of Gazebos
Types of Gazebos
Traditional hexagonal or octagonal gazebos
Square or rectangular gazebos
Modern, minimalist gazebos
Gazebo kits
Custom-designed gazebos
12. Outdoor Shower Space
An outdoor shower is a great way to keep your home feeling clean and fresh. You can build it yourself, or you can hire someone else to do it for you. Before making any decisions on how to build an outdoor shower, be sure to consider what kind of materials will work best in the climate where it will be located. 
You may also want to talk with your neighbors about noise concerns before building an outdoor shower area near them—especially if there are children nearby!
13. Spa Inspired Zen Decor
A spa-inspired decor can be created using the Japanese style. It is a combination of natural colors and Zen garden. The look is very relaxing, which makes it ideal for a backyard gazebo.
While the inside of a spa might seem like an unlikely inspiration for your outdoor space, it's worth noting that many spas offer clothing-optional days or weekdays. 
If you are looking to create a more romantic setting in your backyard, consider building a small pool with jets in it to add some extra luxury to your gazebo area!
14. Victorian Glam Gazebo
The Victorian Glam Gazebo is a wonderful option for those who want to add a bit of elegance to their outdoor space. 
The design features a classic gazebo with an awning, canopy and white wicker furniture. Its glam style adds interest while allowing you to enjoy your outdoor area year-round.
The Victorian Glam Gazebo offers you some great benefits:
A beautiful addition that will make you want to spend more time outside!
Enjoy the shade as well as protection from rain or sun if desired.
This can be used year-round by adding or removing the curtains/awnings when needed (curtains are included).
15. Lily Pond Gazebo
A lily pond gazebo is a perfect way to bring a serene, peaceful feel to your backyard or patio. Lily ponds are great for meditation and relaxation, and adding this to your gazebo will help you achieve those goals.
To create this look, keep in mind that you need water plants like lilies, along with some flowers and fountains. 
Also, consider using white picket fences as well as bamboo flooring. Make sure to add potted plants around the area so it looks more natural and full of life!
You can also add garden chairs if you want an extra place for guests or family members to sit down while enjoying the beauty of their new space!
16. Outdoor Cafe Gazebo
Outdoor cafe gazebo is one of the most trending designs for outdoor gazebos. This design can be made with a small table, chairs, and some lights. 
You can place this gazebo in your garden or patio to enjoy the afternoon coffee with your family. The best part of this design is that it has an umbrella over it so you don't have to worry about getting sunburned while enjoying your cup of coffee.
If you want to add more comfort and style then you can also install two benches on both sides where two people could sit comfortably without disturbing each other's conversation. 
If you want something different than placing just one table then why not try something like placing three tables together? By adding three tables together, they will give an illusion of being one big table that looks amazing and eye-catching at the same time!
17. Gazebo With Covered Cedar Top
If you want to add an aesthetic appeal to your gazebo, consider covering the top with cedar. This wood is durable and can withstand weather and insects. You may also use it for the flooring of your gazebo if you wish.
18. Fully Furnished Outdoor Oasis
You may have heard the term "outdoor living" before. It's a popular style of decorating that takes advantage of your outdoor space by incorporating it into your indoor décor. 
This means incorporating outdoor furniture and accessories into your home, as well as using them to create a sense of space outdoors.
You can use all kinds of items for this kind of design. For example, add some green plants or hanging lanterns to make your gazebo feel more like an oasis in the middle of a desert! 
You could even add some comfortable seating to give yourself somewhere comfy to sit while enjoying this beautiful environment (or perhaps a refreshing cup of lemonade).
A great way to bring natural elements indoors is through trees and vines growing up the walls and across ceilings these will add color, texture, and interest when combined with other decorations such as flowers or wall hangings! 
Or try putting up potted plants inside that match those already growing outside; they'll look great arranged together on shelves around windowsills or along mantelpieces above fireplaces where people often congregate at parties."
20. Pool Cabana Outdoor Living
Pool cabanas are structures that can be built around a swimming pool. In addition to providing shade and shelter, they can also be used as dining areas, lounges or even entertainment rooms. Pool cabanas can be decorated with furniture, plants, and artwork in order to create a more comfortable space for you and your guests.
21. Clean, Mediterranean Structure
The clean lines of the gazebo and the expansive space inside make it a perfect place to enjoy nature in its purest form. The white exterior and blue roof create a Mediterranean feel, while the wooden benches are designed for long-term comfort. 
The structure is simple and uncomplicated, with no frills or flowers or greenery to distract from nature's beauty.
This gazebo will enhance any outdoor space with its simple, modern style that doesn't require maintenance year-round like the majority of other garden features do.
22. A Poolside Oasis
Gazebo. There's nothing like a poolside oasis. One of the most important features of such an area is the gazebo, which provides shade and shelter from the sun during your spa days.
Wood roofing in a rich hue can be used to give your patio more warmth and coziness while also protecting you from rain or snow.
Outdoor kitchen. A fully-equipped outdoor kitchen is another great addition to your poolside cabana; it allows you to make all sorts of delicious dishes without having to go inside your house for ingredients! You may even consider setting up an outdoor shower so that guests don't have to travel far after swimming before getting cleaned up afterward (or vice versa).
23. A Gazebo With Swing Bed
One of the most popular types of gazebos is a swing bed. On this type of gazebo, you can relax in comfort and style. 
A swing bed makes it possible to enjoy your yard or patio while relaxing and reading a book or watching your children play.
A swing bed is an excellent place to have dinner with family and friends or simply read a book while enjoying the weather outside. If you want an outdoor space that offers both comfort and privacy, then this kind of gazebo could be perfect for you!
The best thing about having a swing bed on your property is that it provides ample seating space for all your guests while still giving them privacy from each other if they prefer not to interact with one another (which may happen if there are children running around). 
The best thing about having this kind of outdoor furniture is that it adds elegance without compromising functionality; after all: who doesn't like beauty?
24. Poolside House With Sitting
This poolside house with sitting represents a great example of how you can incorporate various elements like a swimming pool, fence, lawn, umbrella, deck, and garden. The overall appearance of this home is quite calming with its soft green shades. 
It has also been designed in such a way that it doesn't look too cluttered or busy which makes it very appealing to the eye. You will notice that there are no hard edges anywhere which gives off an overall relaxed feel that many people love when they are looking for new homes to buy.
25. Gazebo On The Back Deck
The gazebo is one of the most popular outdoor structures. It's a structure with a roof and open sides, usually used for sitting and enjoying the outdoors.
 Gazebos can be used as a place to sit, relax, read a book or have lunch. They can also be used as an extension of your home's decorating scheme. This article will show you how to design modern gazebo designs that fit into any outdoor space!
The first thing you should do when designing a modern gazebo is to think about what purpose it will serve in your yard or garden area. 
If you like having dinner outside but don't want to deal with bugs while eating then consider putting up an indoor/outdoor patio dining table set complete with built-in lighting so it looks nice at night too!
26. A Beach Paradise Gazebo
A beach paradise gazebo is a great place to relax, read a book or watch the sunset. It can be as simple as installing some bamboo flooring and a few chairs or loungers in an area with plenty of privacy. 
If you have enough space in your backyard, you could even build a full-fledged resort-style gazebo complete with chaise lounges and hammocks for ultimate relaxation!
27. Shabby Chic Garden House
This gorgeous shade house is perfect for your garden. Its charming exterior and elegant interior can be used as a place to relax, or you can use it as a guest house. 
The home has a beautiful garden, with trees surrounding it. If you're looking to create an inviting space that you'll want to spend time in, this is the gazebo for you!
28. Outdoor Kitchen Gazebo
An outdoor kitchen gazebo is a great way to create a place for you and your guests to cook during the summer. It can be used as a barbeque, or even as a pizza oven.
The gazebo can also be used to keep warm during the winter months with electric heaters and fireplaces. This type of structure is perfect for entertaining guests or just hanging out with friends.
29. Gazebo With Privacy Screen
A gazebo with a privacy screen is the perfect solution for outdoor space that requires more than just a canopy but also wants to shield itself from the neighbors. 
It's also an ideal choice for homes that feature open-air living rooms and kitchens because you can use it as an extension of your home decor with the addition of decorative plants and flowers.
And when it comes to dining outdoors, nothing beats sitting under a gazebo with a privacy screen! You don't have to worry about keeping your conversations private or feeling like you have to talk loud enough so people outside can hear you over the noise caused by traffic flow.
30. Roman-Style Gazebo
If you love the look of Roman architecture, you're going to be a fan of this modern gazebo. The Roman-style gazebo is a rectangular structure with columns or piers for support and a roof that's supported by them as well. 
It has an old-school feel to it, but it's also very sturdy and can withstand harsh weather conditions like rain or snow without any problem.
The Roman-style gazebo is perfect for sitting areas because its roof will keep you dry from rain and sun exposure. It can also be used as a dining area if you do some modifications such as adding benches inside so people would have somewhere to sit while eating meals outside in comfort!
31. Texas Living Outhouse
The Texas Living Outhouse is an amazing outdoor living space that you can create in your backyard. It has a sitting area, kitchenette, fireplace, bathroom and shower. This is the perfect place to relax and enjoy life with friends and family.
Conclusion
There are many options for outdoor gazebos, but we think these 21 designs are the best. There are so many different styles of gazebos and you can customize your own to make it look exactly how you want it to. 
These modern gazebos will be perfect for any backyard or patio, whether it's just a small space or a larger area with plenty of room. 
If there is an outdoor living space in your home and don't already have a gazebo built into the design then consider adding one! It's always nice having somewhere quiet and private where family members can get together without being disturbed by outside distractions."
Further Reading
Here are some additional resources for inspiration and information on gazebo design and decoration:
The Spruce: 29 Gazebo Design Ideas: This article offers a variety of creative ideas for designing a gazebo that will stand out in your outdoor space.
Garden Benches: Gazebo Decoration Ideas: Looking for ways to make your gazebo feel more festive or cozy? Check out this article for some great decoration ideas.
My Outdoor Plans: 12×12 Hip Roof Gazebo Plans: If you're interested in building your own gazebo, this resource provides detailed plans and instructions for a 12×12 hip roof gazebo.
FAQs
What is the average cost of a gazebo?
The cost of a gazebo can vary widely depending on factors such as size, materials, and design. However, as a general guideline, a basic, prefabricated gazebo can cost anywhere from a few hundred to a few thousand dollars, while a custom-designed gazebo can cost upwards of $10,000 or more.
What are some popular gazebo designs?
Popular gazebo designs include traditional hexagonal or octagonal models, as well as square or rectangular structures. Some gazebos have open sides, while others have screens or even windows. Roof styles can range from simple peaked or flat designs to more complex hip or bell shapes.
How do I maintain my gazebo?
To keep your gazebo looking its best, it's important to regularly clean it and inspect it for any damage. Depending on the materials used to build your gazebo, you may need to periodically seal, stain, or repaint it to protect it from the elements. You may also need to replace any damaged or worn components, such as screens or roof shingles.
Can I use my gazebo year-round?
Whether or not you can use your gazebo year-round depends on factors such as climate and the design of your gazebo. In areas with mild climates, a gazebo with open sides may be usable year-round, while in areas with more extreme weather, a gazebo with screens or windows may be a better option. Adding features such as heating or lighting can also make your gazebo more usable during cooler months.
Do I need a permit to build a gazebo?
Whether or not you need a permit to build a gazebo depends on factors such as the size of the structure and local zoning regulations. In some cases, you may need to obtain a building permit from your local government before beginning construction. It's important to check with your local authorities before starting any building project.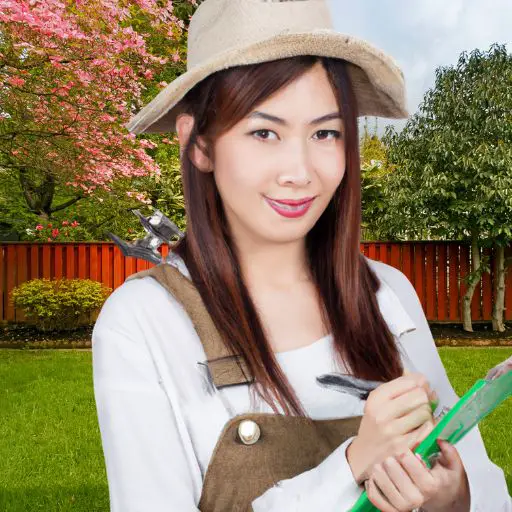 I am Hellen James, a landscape architect. For many years I have written about landscaping for various publications; however, recently decided to focus my writing on personal experience as a profession.